---

Decmeber 31st- Happy New Year's Eve!!!!!!!! I just got word that Toonami is going to show Tenchi Muyo! in the time slot that Zoids used to have. They are also going to show Dragonball after Tenchi Muyo!. I toke down all the decorations on the site today. Hmmm... now I should start making my resolutions.......
---

Decmeber 30th- I got back today. I've done some work on the sites but nothing major. I'm still working on the message board and guestbook. New link in the links section! Special thanks to Crissy at Crimson Sky Creations. This is just a rumor but I've heard that Toonami is going to show an episode of Tenchi Muyo! of the New Year's Eve block. Toonami might also bring back "The Rising Sun" block that they used to air on Saturday mornings.
---

Decmeber 26th- Toonami wiil be airing a special Midnight Run event on New Year's Eve!!!! I won't be here for the next few weeks so I'll work on the site all day today! Oh and I got a new poll up!
---

Decmeber 21st- Yeah!!!!! Winter Break begins today (for me at least!!!!!). More updates very soon. Thanks you everyone who participated in the poll. I have looked at the info and all signs point to you (okay, maybe not you but you know what I mean) wanting more anime reviews on the site. I'll start working on that immeadiately. I finnally got the Zoids site and Big O site to load so now you can actually see them.
---

Decmeber 14th- Just a reminder that Toonami is showing 2 hours of Zoids today. I also changed some stuff arounf the site for the holidays. I deleted the Zoids site (not on purpose) so sorry : ( . If you haven't signed up for Neopets yet just click on the image at the bottom of the page and sign up. I also put up a new feature in my poll. When you look at the results you can now leave a comment. I'm hoping that I can get more suggestions from people...
---

Decmeber 9th- New Poll!!!! Next Friday, Toonami will air 2 hours of Zoids. That 4 back to back episodes!!! Toonami is now re-airing Outlaw Star on the Midnight Run with Dragonball Z. Toonami also got rid of Dragonball and is now showing 2 hours on DBZ. But I like variety............
---

Decmeber 7th- I got a few new additions to the fan art gallery. Be sure to check that out. Today Toonami showed "Deadzone". Why don't people tell me these things?!?!?!?! I forgot to put the links to the Big O and Zoids site on the main page. Doh! My email hasn't been working properly so if you tried to email me I didn't get it. Sorry. : ( Oh yeah, *NEW POLL*!!!!!!
---

November 30th- Not much going on today. Toonami's showing the DBZ movie "Tree of Might" today.
---

November 23th- Yippee!!!!!! I just finished the Zoids and Big O but they don't have any pictures yet. I'll work on that. Oh, yeah, Toonami's showing "World's Finest" today.
---


November 22th- HAPPY THANKSGIVING EVERYONE!!!!!!!!!!! And you thought I wouldn't update today!
---

November 20th- I plan on doing a lot of updates on "THE DAY AFTER THANKSGIVING!!!!!!!". Hahaha : ) Seroiusly now, I might make a Big O, Ranma 1/2, and Zoids site all in one day. Think it's impossible? Just watch and see!! ; )
---

November 17th- Next Friday Toonami will air "Tree of Might". I've been very busy lately so I haven't been able to update. The new Toonami show Zoids already has toys out. You can get them at your local retail store.
---

November 11th- Next Friday Toonami will air "Sailor Moon Super S". I might just stop putting a poll up each week since a lot of people don't do it. Last week only 14 did it : (. Anways I plan on putting up new pics next weekend. I'm getting a few new banners and buttons too.
---

November 2nd- Next Friday Toonami will air "Sailor Moon S : The Movie". Last night I put up a new poll and 11 new fanart pics. On Monday, Cartoon Network will show Zoids on the Toonami block.
---

November 1st- Don't forget that Toonami is going to air Sailor Moon R tomorrow. I have recently seen a commercial on Toonami saying that they would show "Gundam 0080'' on November 5th at 12:30a.m. e/p. They also said it was a Midnight Run Exclusive.
---

October 28th- On Friday November 2nd, Toonami will air "Sailor Moon R : The Movie". Hand Maid May Volume 1 is set to release in America very soon. Yesterday I got a new banner and put up some *new* fanart. The movie "Deadzone" will air on the Midnight Run on Halloween night.
---

October 22th- Yeah!!!! Today on Cartoon Network, before Toonami, they showed a new show called "Zoids". So far it looks like they're on a planet with robot animals ( I guess those are the Zoids) fighting. There is also another rumor going around. Toonami plans on getting "Pilot Candidate" on the Toonami block. It might go on Adult Swim instead. Oops I'm sorry I didn't metion this before but on Saturday they showed 2 hours of DBZ. I think that they're going to do that every Saturday to show episodes during the week that people might have missed. There are also rumors that Toonami well show Gundam 0080 and Gundam 0083 later in the year. Ok that should be all for today.......No wait,........ah nevermind. : )
---

October 19th- Today on Toonami they showed an hour of *NEW* episodes of Reboot!!! After that they showed the Dragonball Z movie, Deadzone. I guess they're going to show a movie each Friday and show an hour of Reboot before hand. Next week they'll show Subzero. Come on people!!! Please do my poll! So far only six people have done it.
---

October 12th- Yeah!!!!!!! It's finally done!!!! The Fan Art site is up and running!!! Be sure to check it out. Also check out the *new* poll!!! Yippee!!! I just finshed the review site!!! Check that out too!!!!! The poll's at the bottom of the page.
---

October 11th- CT's News: (submitted my a fan) Toonami's line up will begin showing Toonami Movies again on Fridays starting the 19th with Dead Zone, then Batman and Mr. Freeze: Subzero, and closing out October. In November its Sailor Moon R. Before each movie they'll show an hour of Reboot. (these may are may not be true however)
---

October 10th- I'm very sorry for not updating. I need ideas for the site so email me them. Ok, here's the news. Gundam 8th MS Team is now airing on Toonami; so is Batman Beyond. I'll put a new poll up tonight.
---

September 26th- I haven't updated in a while and I won't mainly due to my schoolwork lately. During the school year I'll try to update at least once a week (that's only if my computers working right). There's not much news this week except that a lot of movies and games are being delayed because of some editing.Remember to do my poll. It's the only way for me to know what the fans of my site want. I got some fan news today so here it is : The Kids WB Big Priemere Weekend will air this weekend on Kids Wb. They will show new episodes of cardcaptors and show a primere of Yu gi oh.
---

September 17th- A Cardcaptors CD will be coming out tomorrow.
---

September 16th- It's good to know that a lot of the survivors from the incident on Tuesday are found and being treated for injuries all thanks to the thousands and thousand of heroes out there that are working in New York and worldwide in the aftermath of the terrorism from Tuesday. Oops! I got a email this morning from someone who watched all the shows on Kids WB, yesterday. They told me that all the shows didn't match the schedule I posted. They weren't suppose to show Cardcaptors, but they showed 2 new episodes of Cardcaptors that were suppose to be on the weekdays. Sorry about that. I've had a lot of people leave comments on my site but none left there email so I could contact them. If you have a question email me so I can reply to you. Don't ask me if you can work on this site because I'm not accepting applications yet. This doesn't mean that I'm mean it's just that I don't need any extra help. EXTRA EXTRA!!!!! This goes out to all you Cardcaptors fans out there. If you are willing to write summaries of American Cardcaptors episodes please contact me. I will post them on the CC site and give you full credit. For more info email me.
---


September 14th- I'm so glad it's the end of the week. Maybe now I can do some real updating. Moving on to other stuff, yesterday I was emailed 6 different FanArt so I'll make a FanArt site sometime this weekend or next week!! Thank you everyone who submitted and don't forget that you can still submit more. I put up a flag badge in memorial to what occured on September 11th, 2001. Click on the badge on the bottom of this page to see how you can help.


Starting Monday, the 17th, Cardcaptors will be airing every weekday (except Wednesday) at 3:00 p.m. New episodes of the Sakura Card Arc will be shown Mondays, while reruns will show the other days. Here's the schedule for the next three weeks:
Mon. 9/17: Li's Calling !*New*!
Tues. 9/18: The Last Card - Part 1
Thurs. 9/20: The Last Card - Part 2
Fri. 9/21: A New Set of Wings
 
Mon. 9/24: Double Trouble !*New*!
Tues 9/5: The Switch
Thursday. 9/26: the Final Judgement
Friday. 9/27 A New Set of Wings
 
Mon. 10/1: Spinning Out of Control !*New*!
Tues. 10/2: No Way Out
Thurs. 10/4: One Fateful Day
Fri. 10/5: Running Out of Time

I just got word that the first Cardcaptors movie is due out in American theatres on October 8.

---

September 13th- I plan on making a lot of new changes to the site but I'm not telling what until I'm finshed so just keep checking the news here : ). I plan on making a site that will have a list of all the upcoming anime news and/or products such as toys, videos,etc. Email me if you have any ideas for a new site. Remember I read every single email even though I might not always reply. Also if you have any reviews (you have to at least seen it) email me them. I'll most likely post them in the review section. Well now you know one of the new websites. There's still at least 5 more you don't know about yet. They will all probaly be completed before October 31st.
---

September 12th- Good news for all you Sailor Moon fans out there. Even though Sailor Moon is off the Toonami block it will be airing on Kids WB at 4 p.m.(e/p). I'm not sure how long it's going to be showing. Rumors say they started showing September 3rd and will last for 2 or 3 weeks. Go to WB's Toonami Clip to see the clip of the WB's Toonami. The new season of Dragonball Z started on Monday. They show the new episode at 6 p.m.(e/p) every weekday. There is a total of 47 new DBZ episodes.
---

September 11th- Today is a very sad for all Americans. My prayers go out to friends and families effected by these tragedies.
---

September 10th - Gundam: 8th MS Team will be moved to the Toonami evening block starting October 1st from 5:00 to 5:30 PM (ET/PT), and has been taken off the TMR (Toonami Midnight Run). I already signed up for the Lockdown event on Toonami that will start next Monday from 5 to 7 p.m.(e/p). You should sign up too. Good news for all you Sailor Moon fans out there. Even though Sailor Moon is off the Toonami block it will be airing on Kids WB at 4 p.m.(e/p). I'm not sure how long it's going to be showing.
---

September 5th - There shouldn't be any bugs on the site but if there there are notify me quickly. There is an upcoming Inu Yasha movie. I plan to get more info on this soon.The Toonami Reactor website now has the fourth anime music video for Daft Punk's "Harder, Better, Faster, Stronger" available in Real Media.
---

August 27 - I fixed some bugs in the site earlier this morning. I also made another awards page to cut down on the loading time and get rid of some bugs. I won't make a Fan Art or Fan Fiction site unless you submit yours. I won't make a site unless i get more than 10 pics or stories.
---

August 24 - The season premere of Dragonball Z will air Monday, September 5th at 6pm (e/p) on Cartoon Network. I changed the poll earlier today so check that out. I haven't really been doing anything on the site but I will in next next few weeks.
---

August 20 - I've added another Outlaw Star Image Gallery so go check it out. Sometime last night this site reached it's One Thousandth visitor. Yeah. Oh and don't forget about the poll.
---

August 19 - I've been getting email lately telling me that the awards page isn't loading right. That problem should be fixed in a short while. In the meantime do my poll. If you haven't signed up with Neopets go to the bottom of the page and click on the link. Remember if anything appears out of the ordinary at this site email me. Oh yeah and check out the improved image galleries.
---

August 18 - Summer vacation is almost over : ( . If you haven't signed up with neopets click on the button below. I might get a new layout but I'll see.
---

August 11 - I know I haven't updated in a while but my computer hasn't been working right for the past 2 weeks. Anyways here's the news for the day. Yesterday when I was watching the movie premiere of Samurai Jack I saw a commercial for the new season of Dragonball Z . The new DBZ season starts Monday September, 10 at 4p.m.(e/p). When I went to my local WalMart there was a big semi truck parked in front of a very large crowd of people. When I came closer I noticed that the truck had a huge picture of a Gundam. On the other side there was a row of TV screens on the truck where you were able to play a never before seen game called Journey to Jaburo on the PS2 and watch a complete history of Gundam. I later went to Gundam Official.com
and found out that it was all part of a Gundam tour across the U.S.. They were giving out cards but when I got there they were all out. GundamOfficial.com Go to Gundam Official.com
for more details and images of the tour truck.
---

August 3 - I just got word that Cartoon Network is getting Cowboy Bebop for the Adult Swim. Cowboy Bebop will make its US debut September 2nd At 12 a.m. (midnight)during Cartoon Network? Adult Swim block, the new adult-targeted block of cartoons. Cartoon Network introduces Cowboy Bebop, an episodic anime series that will air in one-hour blocks, premiering on Sunday, September 2 at 12 midnight (ET, PT) during Cartoon Network? Adult Swim, the network? new adult-targeted line-up. Taking place in a future where the population of Earth has migrated into space, Cowboy Bebop deals with the exploits of the ship Bebop and its bounty hunter crew as they take on various assignments in a hyperspace world rampant with crime and opportunities. The show follows the exploits of bounty hunters, Spike and Jet, as they roam the galaxy with their dog, Ein, tracking down criminals. Cowboy Bebop is a production of Bandai. Cartoon Network extends its mission as the world's leader in animated entertainment on September 2, when it splashes down with "ADULT SWIM", a new block of animated programming aimed at adults ages 18-34. The block will air only on Sunday and Thursday nights from 10 p.m.-1 a.m. (ET, PT). In addition to Cowboy Bebop, Adult Swim will include programs such as Space Ghost Coast to Coast, Home Movies and Harvey Birdman, Attorney at Law. Below is an image I have from Cowboy Bebop.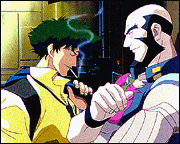 July 28 - I've been very busy again and haven't been able to update in a while. I'm leaving to go on another trip tomorrow so if you have to email me something try emailing me a week from now when I get back. Tonight I have some free time so I'll work on the Outlaw Star Page. I've already finshed the Outlaw Star Image Gallery.

July 23 - I just got back from vacation yesterday. While I was gone I gathered a lot of new information and news. I also decided to make a Redwall fan site because I'm a huge fan of the Redwall book series. Here's the news I gathered. I recently saw a commercial on Kid's WB while I was watching Cardcaptors. I thought it was for the Toonami on Cartoon Network but it wasn't, it was for a new Toonami which airs on July 30th on Kid's WB. The commercial showed clips of Pokemon, The Jackie Chan Adventures, and a new show called Cubix. It also had clips of music videos called Toonami Tracks. It kind of gets me mad that Kid's WB is copying almost everything that Cartoon Network does. First CToon's and Orbit Codes and now Toonami!
July 17 - News Brought to You By Fan : I have some useful infomation for you viewers. This Satuday July 20 at 10:30e/p the Final Judgement, 3 part episode of Cardcaptors is airing on Kids WB.
July 15 - Starting September 2nd 2001 Cartoon Network will open "Adult Swim", a new block of animated programming aimed at adults ages 18-34.The block will air only on Sunday and Thursday nights from 10 p.m.-1 a.m. (ET, PT). Dragonball Z will be returning to the 5:00 PM (e/p)
Outlaw Star will return to the Toonami's TMR (The Midnight Run) .
Premier date set for Mobile Suit Gundam in July.
Premier date set for 8th MS Gundam during TMR.
Pilot Candidate will premier on Toonami late Fall.
Toonami Lockdown: comming this fall.
July 14 - A big thanks to Lia's Anime Castle for making my header. She also made a banner and a button for my site. Visit her at Lia's Anime Castle.
I fixed up the Tenchi Image Gallery last night so you can visit it today.
July 13 - Please do my poll. And mail me your Fan Art or Fan Fic. Please!!! Today I'll work on the Tenchi Muyo and Sailor Moon image galleries.
July 11 - I put up four new awards and I completed the Sailor Moon profiles. This site is getting popular so I'll be fixing it up. That's all for now.
July 10 - Yesterday I linked all the pages together and put up teh new layout. If you want to see the Fan Fic or Fan Art site up and running email them to me with your name and email address to ctmaster@ipenz.com. Anyways here's the news for today. The "Final Fantasy: The Spirits Within" movie is scheduled to hit theaters July 11th. Bubble Gum Crisis 2040 is coming to the Encore Action Channel starting August 4th.
Late Night News: Better break out the coffee it's gonna be a long night...Hey I'm getting kind of tired. Well here's the news. Visit the Sailor Moon image gallery because it's up and running. Yeah!!!! and the links page is up. Yeah!!!!! And the oh wait nevermind that's not up yet.
July 9 - Today I'm just going to update. Only one person has emailed me abot the new layout. Later today.....I finnaly decided to change the layout. The layout will only be for the main page. I'm also thinking about making a Digimon site and a Ranma 1/2 site. A lot of people like interactive stuff on websites so I made an arena site. That thing that I said about Toonami not showing movies until winter wasn't true I guess....They'll show "Tree of Might" this Friday at 5 p.m.(e/p). Mobile Suit Gundam will air on Toonami on July 23rd at 5 p.m.(e/p).
July 8 - I'm finnaly back from my vacation. While I was gone I won four new awards. They all gave me very good suggestions for this site. Many said to change the layout. That way I might get more people to visit. While I was gone I wasn't able to keep up with the news so that might take me a while. It occured to me that most of you don't know what the layout is going to look like. If you want to get a sneak peak go to "The Test Site".Email me and tell me if I should change the layout that I have now or keep it.
June 23 - The new season of Cardcaptors started this morning on Kids WB. I've also received a lot of email suggesting that I make a Fan Fic site. I'll start on that two weeks from now cause I'm going on vacation. If you have any fan fics that you want me to post email them to ctmaster@ipenz.com.
June 22 - I'm so mad. I was suppose to get a new layout but then my computer crashed. The Tenchi site will never be the same again.... After that I got thinking, why do I even need a new layout. I like this layout just the way it is. I mean it's easy to get around and you know where you're going. I finnaly got another new email address. You can contact me at ctmaster@ipenz.com . I just got an idea to start a fan fic site. But it wouldn't be required to be anime. It could be anything. Breaking News : 4Kids Entertainment and WB , the duo that brought Pokemon over from Japan, announced yesterday they will be teaming up again to create a Yu-Gi-Oh television series to air on Saturday mornings on the WB. The animated series, targeting boys ages 10 - 15, will be about a boy named Yu-Gi who derives super powers from an ancient deck of cards. Yu-Gi, or Yu-Gi-Oh as he is called when he exercises these powers, uses the cards to fight evil monsters. I can't really judge it now but it seems like a rip off of Cardcaptors and Pokemon. That's all I have to say for today. Hey that ryhmes.
June 21 - I think I'll take a break today as I decide what to update next. It's most likely going to be the Dragonball Z image gallery. Oh yeah before I forget I found someone that might be able to help me out in making a new layout for the site. I still don't know what's going to replace it. I'm thinking about adding character bios sites for each anime. I'm also thinking about regestering for a couple of awards. It's not likely that I'll win any though. "Breaking News" : Tenchi will be leaving the Toonami Line-Up on July 20th.
June 20 - Today I'll post up the DBZ episode guide. It has complete reviews for each episode. I'll also post up the episode guide for seasons 1 and 2 of Sailor Moon.
June 18 - This week I'm thinking about adding episode guides to the DBZ site and the Sailor Moon site. If I have enough time left over today I'll begin working on the image galleries.
June 15 - I'm still thinking about Toonami and the WB merging. What show will they move next? Anyways I'll be putting more pictures in all the image galleries.
May 31 - I just realized that my site's on anime but I've never really explained what anime is so I'm going to design a FAQ site on anime. I'll provide info on shows too. Some new news is that Cardcaptors (recently shown on KidsWB) is moving to Cartoon network. The WB network is going to get Toonami in the afternoon and is going to show shows such as "Pokemon" and "The Adventures of Jackie Chan" which I might add are not even anime. Of course these are all rumors...but so was the thing about Toonami changing it's schedule(and I was right). Remember I have realiable sources. I guess it's time to change the pol again but to what.
May 12 - It's been awhile since I've updated but the Outlaw Star site is finnaly up and running. I'm still shocked that Toonami will switch to only two hours beginning on Monday.
May 4 - I finnaly found someone to help me with the new layout. I just thought that this site could get a new look. I just got news that Toonami might be getting it's own network. If this is true it would allow Toonami to show a lot more anime series but it would also allow it to show more anime that's intended for it's teen audience. Toonami cuts a lot of scenes that are intended for teenagers and adults because much of Cartoon Network is geared towards younger viewers from ages six to twelve. Some other disturbing news that I found was that Toonami isn't going to show Sailor Moon, Big O, or Outlaw Star until the summer. They will be changing their schedule ,beginning May 14, so they only show a 2 hour block of Toonami. The lineup will be 5:00 PM Superman,5:30 PM Tenchi Muyo,6:00 PM, Dragonball Z, and 6:30 PM Dragonball Z. Anyways I just hope that Toonami will change it's mind.
May 2 - I've been receiving a lot of emails from people who wish Outlaw Star didn't go off the air. Let me tell you that I have no control over what Cartoon Network decides to do with it's shows. Also if you leave a comment in my poll section also leave an email address so I can get back to you.
April 29 - This site is offically 1 year old. Happy Birthday Cool Togepi!!!!!!!!!!!!
April 18 - Spring Break sure went by fast. I been busy with school reports so I haven't been able to update much.
April 8 - *Sailor Star* reporting - This site's anniversary is in 21 days and we still haven't found anyone to help with the new layout. The new layout probaly won't happen until late May or early June.
April 2 - I'll be working on the Outlaw Star site this week. The image gallery will probaly take a few more weeks. I won't be doing any major updates to this site over Spring Break but I'll gather info on The Big O and Outlaw Star.
March 30 - The updating progress is coming along slow. Bad news: I could only obtain a few Outlaw Star images. Good news: *Sailor Star* has found a lot of images of Jim and Aisha.
March 29 - I'm working on finding images to add to the Outlaw Star site.
March 28 - I've been a little busy lately with school work so upadating has been slow. I'll be getting more memory for my computer that way I'll be able to put a lot more interactive stuff and images on the site. I'll try to get this site Netscape compatible.
March 22 (but now it's late night)- I was working on the Tenchi site, finding info, gathering images, and all that good stuff. The only reason it took me so long was because my browser was running slow, very slow. It even crashed once. Anyways I'm going to work on the Tenchi in Tokyo site tomorrow. Goodnight.
March 22- I'm thinking about getting a message board or maybe even a chatroom. Right now *Sailor Star* and I are making a layout for the Outlaw Star page. We're also contacting people for images. LiquidDragon will be working on improving the Tenchi and Cardcaptors sites.
March 21- I wasn't sick yesterday, just busy. But now I'm done with that so I can work on the Image Gallerys for the Sailor Moon site, Cardcaptors site, and Dragonball Z site. I'm going to keep the poll up for another 2 weeks. Right now it looks like it's going to be Outlaw Star so I'll start gathering images and info. CoolTogepi's annivesary is coming up in 39 days! I'm expecting to get a new layout for this site by then.
March 20- CoolTogepi must be sick or something today. Anyways I'm filling in for him today. This website might be getting a new layout soon. Don't worry though it will still have all the GIFS and information.---*Sailor Star*
March19- For some reason my GuestGear isn't working right so I couldn't change the poll. Don't forget to check out the Tenchi Image Gallery.
March 17- Happy St. Pattrick's Day!! That's reminds me that this site's annivesary is coming up soon. I started it all on a rainy Saturday in April, April 29 to be exact. This site was first just about Pokemon but I got rid of that and now it's about true anime. Gotta love that anime.
March 10- My pics are up again. I haven't been upadting because I've been busy with school reports. At least they're easier than 8th grade reports. The Washu image gallery is complete but I'll be adding more pics. The next project will be getting an Outlaw Star site up and getting an image gallery for it. I'll be changing the poll to : What should I build a site for : Outlaw Star, or Gundam wing.
March 5- Spring is near and so is the completion of the Washu image gallery. I'll give it a week at the most.
March 1- Since all my pics got lost I'll be spending my time restoring them. It might just be a system error though. So don't get made if the pics don't work.
February 23- I'm starting the Tenchi series image gallery. It should be completed in about 2 weeks. This site must be popular!! 25 people visited yesterday. But only 5 did the poll. Oh well.......
February 22- If anyone has any ideas on what the Tenchi site should look like post it on the comments section of the poll. (And why your at it do the poll)
February 19- My counter is finnaly up and running again. The Tenchi site is up but it doesn't have much yet.
February 10- I've started working on the Tenchi site. It should probaly be up in a month. My computer's be down for a week and I couldn't update.
February 2 - I know I haven't updated in a while but now I'll be updating almost every week. I've also got a new staff to help me. *SailorStar* the Sailor Moon expert is still here but we got some new recruits including TheRedFrog and Liquid Dragon. This week I'll be updating the Sailor Moon site and Dragonbal Z site. Oh and don't forget to do the poll. I'll change that monthly. 2002 News
2000 News
Home

NOTE:Cool Togepi design and content © of CoolTogepi.tripod.com 1999, 2000, 2001, 2002. This site in no way is affiliated with Nintendo, Cartoon Network, or any other companies mentioned in it. I am not trying to infringe on any copyrights in anyway.